Plush Carpet
Typically this type of carpet is sold in solid colors with an even, smooth pile height. Plush carpet, when made of nylon or Polyester will usually clean very easily when maintained properly. For the past 20 years, this is one of the more popular styles of carpets in most American home and apartment settings. Plush carpeting comes in just about any type of shade or color imaginable. Please note that Plush or Saxony style carpets will show foot prints and vacuum pattern marks as the nap gets pushed from side to side.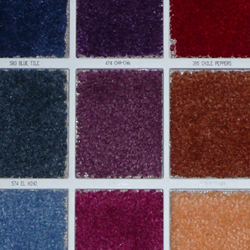 Plush Carpet Features
Excellent for formal dining rooms and quiet areas
Soft and luxurious
Choose from dozens of beautiful plush colors
Always a fashionable carpet choice
Plush Carpet Details
Sink in to the absolute luxury of a plush carpet. Just as its name suggests, a plush carpet is smooth, clean and soft. Plush has been described as a carpet that's as much of a pleasure to walk on as it is to behold.
Although a plush carpet is most often used for formal living and dining room settings, it's also perfect for more private areas, like a bedroom or study. Available in a stunning range of colors, interior fashion doesn't get more beautiful or indulgent than this. Get connected today for a carpet estimate with one of our pre-screened and certified carpet installers who specialize in Plush carpets to learn more.