Textured Carpet
A textured plush carpet is very similar to that of plush carpeting, but it has varying tuft heights to reduce footprints and vacuum marks. The shorter the lengths the less visible any marks will be. A very popular type of carpeting, available in virtually every color imaginable and costs roughly the same or just slightly more than your typical plush carpet.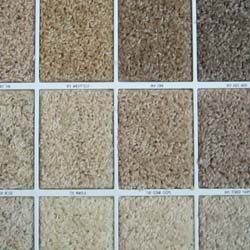 Texture Carpet Features
Texture carpet is suitable for the entire house
Great for both casual and formal rooms
Choose from over one hundred colors
Reduces noise levels in your home
Texture Carpet Details
Texture carpet is a cut pile carpet that could not be more versatile or more pleasing to the eye. The slight shimmer of a textured carpet complements a room designed for casual living and also steps up to the higher expectations of a room set for more formal gatherings.
No matter what the room occasion, a textured carpet makes any space a comfortable, warm and welcoming place for all. What color do you have in mind? Something neutral or something bright? Chances are that one of our local carpet dealers will have just the right pick for you. Get FREE CARPET ESTIMATES set up today and see how beautiful a new Textured Carpet can make your living space.